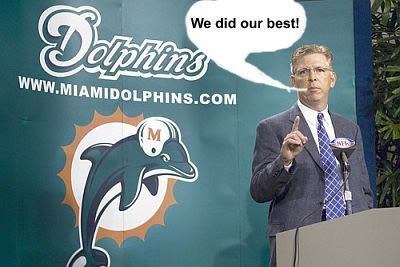 Left: Old Cam

The Dolphins are awful right now and it starts with the coaching. Since the day Cam Cameron came on as the head coach of the Dolphins, everyone has bent over backward to give him the benefit of the doubt. Any time a new coach takes over in the NFL, no matter how unconventional, fans try to stay optimistic, thinking maybe he knows something they don't. If a new coach shows up to a press conference dressed as a wizard to announce he is using the #1 draft pick on a long snapper because he likes the guy's family, fans will try to praise his unorthodox decision making, hoping it's part of a grand, master plan they cannot possibly comprehend. During the preseason he talked about how he wanted the team to "Fail Forward Fast". Cam wanted the team to try things and not be afraid to fail. If anything, their failure would teach them, which would help. Using this thought process during the preseason, he openly hoped his QBs would throw interceptions and the team would lose so they could learn to cope with it and overcome it.
Well now the season has started and the Dolphins have Fully Failed Frequently. The good news is they now know how much it sucks to be 0-5, so hopefully next year they will want to avoid it. While Cam Cameron's ideas for leadership are perfectly suited for a Co-Ed Softball team or teaching a child to ride a bike, they have no place in the NFL. If Cam wants to win in this league consistently, he needs to be scary. The fact is, in the NFL; mean coaches typically do better than nice ones. What about Tony Dungy? Tony Dungy has Peyton Manning, we have Cleo Lemon. Look at successful coaches over the last few years; Bill Belichick, Bill Cowher, Bill Parcells. You need to make your players fear you. That starts with your name. No one named Cam has ever been feared or respected in the history of time. If you want to win in the NFL, you need to a name like Bill or Mike. Look down a list of Superbowl coaches you'll see Bills, Mikes, Joes, Toms and a long time ago, a Don, but almost no wacky names (Weeb Ewbank, 1969 Jets. God, I hate the Jets). In college football you can be a Bear or a Bo or a Woody, but this is the pros. His real name is Malcolm, that's a start.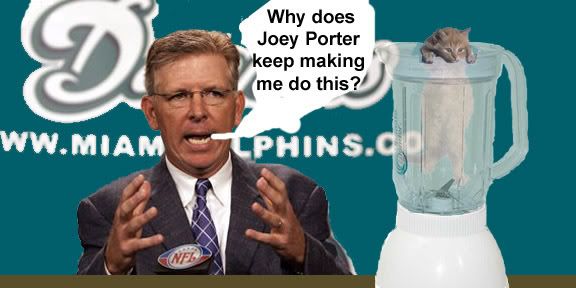 New Malcolm
Ok Malcolm, how are you going to make your players fear you now that you've spent the whole season, coloring with them and talking about their feelings? You can't just wake up one morning and be able to make a defensive lineman cry at practice. You need to play scary coach catch-up. You say you learned from Bobby Knight at Indiana, and that's a good foundation to build from. But this is an emergency, so you can't just throw a few chairs and hope to solve it. Every week you need to buy a kitten and give it to the team. Let them name it and play with it during warm ups all week long. If they win the game that week, their kitty gets a new collar and a treat, but if they lose, put the kitten into a blender in front of the whole team; then name the player whose lack of ability most contributed to the loss and make them press the button (Kind of like the opposite of giving a game ball). Given the way this team has been playing, we are probably going to need a lot of kittens. At this point you are probably thinking this is a sick idea, but I LOVE kittens. I, more than anyone, hope no kittens are ever forcibly pushed into blenders. But for that to happen, the secondary is going to have to do better in coverage, the defensive is going to have to stop the run and Joey Porter is going to have to make at least ONE sack. It's a desperate measure, but these are desperate times. PETA is going to be furious, but if they can take that anger and focus it on encouraging Ted Ginn to properly receive a hand-off so our QB doesn't have to play cranial pinball off a defensive lineman's knee, then it will all be worth it.